Read More: Click here for Original article
ABOUT CARPLAY
But first some background: CarPlay provides a simplified way to use your iPhone interface on a car's touch screen, giving users access to Siri voice controls, as well as Apple Maps, Apple Music, Phone, Messages, and a variety of third party apps.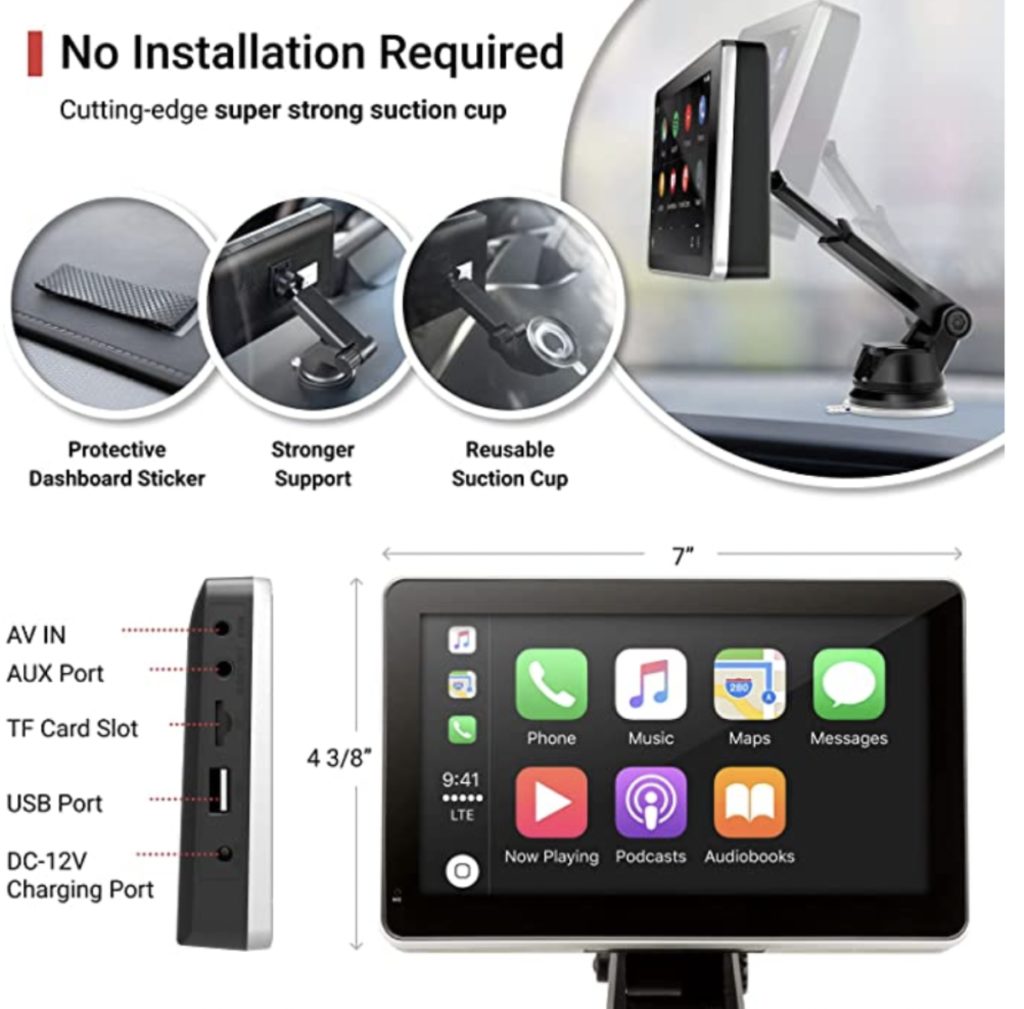 WHAT IS THE INTELLIDASH PRO?
Okay, back to the Intellidash Pro: it's a dashboard-mounted, 7-inch smart display with an IPS touchscreen that's compatible with CarPlay, as well as Android Auto. It's the result of a collaboration between Car and Driver (the magazine) and The Fesco Group, a manufacturer of branded consumer technology solutions.
The Intellidash Pro lets you integrate your smartphone within the do-it-yourself installation smart display. Installing it is easy; I had it up and running in about 10 minutes. No software installation is required.
It allows older makes and models of cars like mine can add an integrated smart screens, which is nice. However, my main disappointment came as the Intellidash Pro wouldn't stay attached. The suction cup-based mount sticks directly to your car's dashboard or windshield (just make sure it's not blocking your view). And a shock-absorbing gel strip can be placed under the Intellidash+ to stop it from rattling.
The included mounting arm is adjustable, so you can adjust the arm length, vertical mount tilt, and screen angle. Once mounted, plug the power cord, USB cable, and 3.5mm aux cable (it doesn't come with one) on the left side. I use right-angle cables to make it less of a cable routing eyesore.
Once attached, as long as I was driving on smooth roads, the Intellidash+ stayed firmly attached. However, I have a long, bumpy driveway, and it repeatedly disconnected and fell off the windshield as I bump-bump-bumped along. 
If your driving habits don't include a driveway like mine that could serve as a ski slope the Intellidash Pro will probably stay connected. If so, you'll appreciate its articulating hinge and ability to extend. It comes with a lengthy power cable that you'll need to wrap around the rearview mirror or something on your dashboard to keep it out of the way.
Also, the Intellidash Pro includes voice control (Siri and Google) and can stream downloaded music, SiriusXM Satellite Radio or from an FM Transmitter. Thanks to its iPhone-CarPlay integration, you can answer phone calls and text messages or view maps from the Intellidash. It also includes a charging output for your Apple smartphone.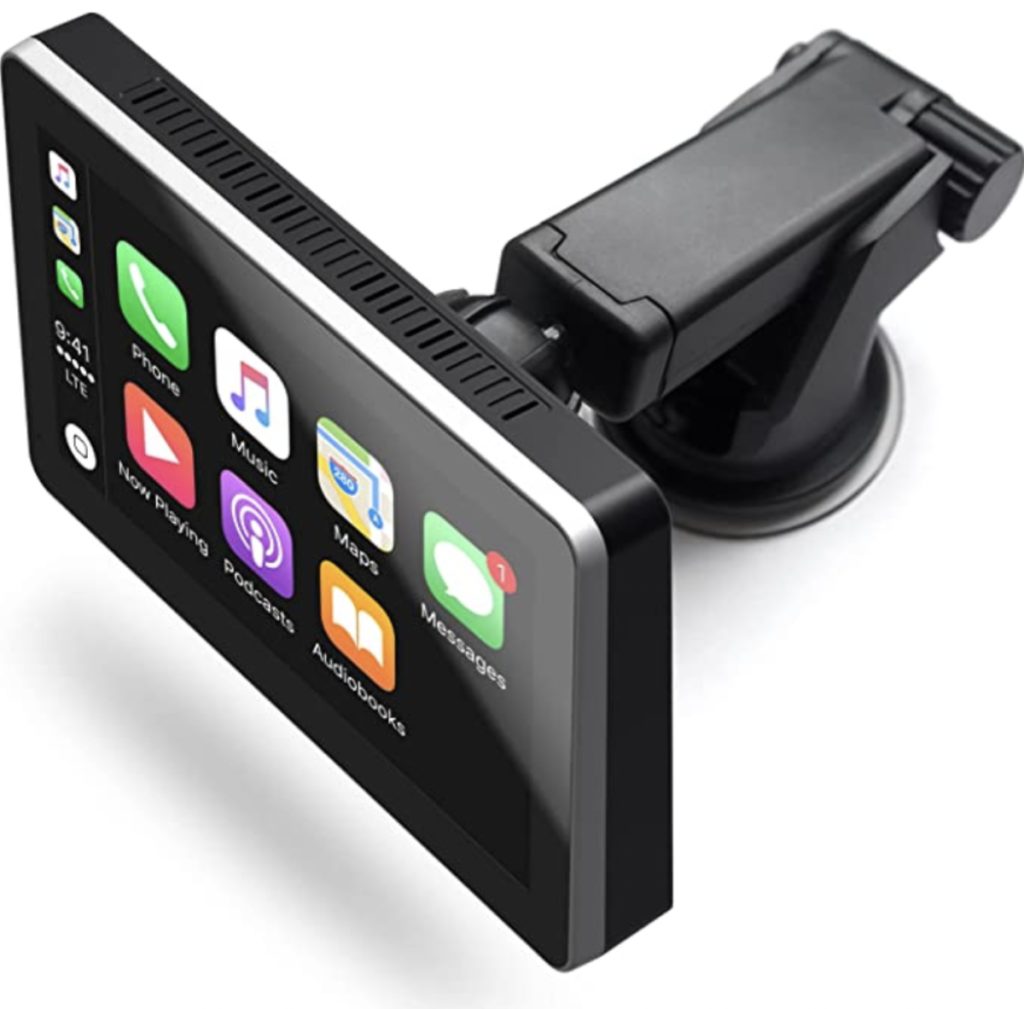 INSTALLATION
Connect your iPhone for the first time (alas, you'll have to provide your own Lightning cable) and you'll get a prompt on the smartphone  screen asking if you'd like to use CarPlay with this device and if you'd like to allow access while your phone is locked. Say yes (at least to the first option) and the CarPlay interface will pop up on the Intellidash+'s 7-inch screen.
THE DISPLAY
The screen is bright with crisp images. However, you may find it so bright at night time that it's distracting. You can fix this with a tap in the top right corner to switch the display into "night" mode for a lower brightness. That's good. However, it would be even better if you could program times for "day" and "night" display modes instead of having to do it manually.
With the display, you have access to Siri, the CarPlay Dashboard, Maps, Music, and any other CarPlay-enabled apps. Audio plays through the Intellidash's own speakers unless you connect an auxiliary audio cable from the Intellidash+ to your car's audio system. 
HUMDRUM AUDIO
The audio from the Intellidash Pro is decent, but not great. The new unit I tested had better audio than the previous model I tested. However, the sound is still somewat disappointing. I was hoping for audio comparable to that which comes out of the great speakers on my 12.9-inch iPad Pro. But the quality isn't even close.
You'll probably want to use an auxiliary cable to connect the Intellidash Pro to your vehicle's speakers.
The Intellidash+ is available at Amazon for US$399.99.