Intellidash Pro review: The easiest way to add wireless CarPlay to your ride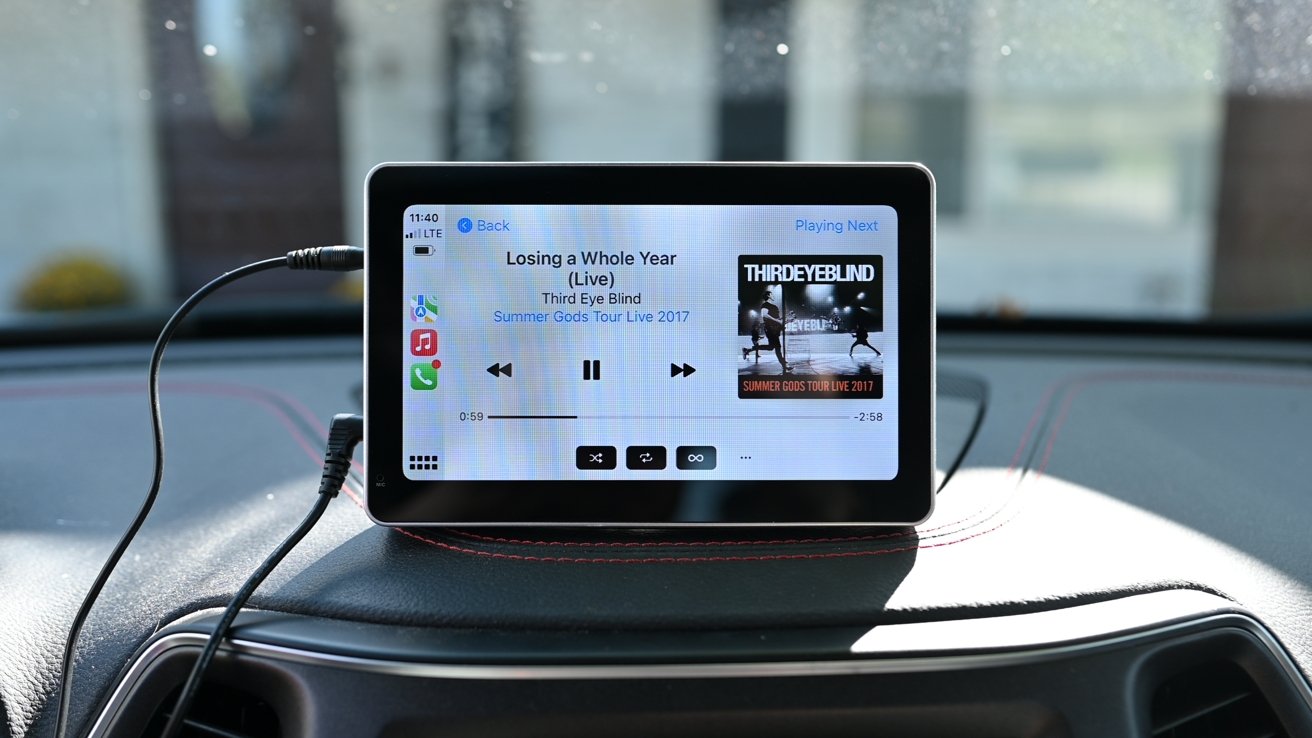 Read More: Click here for Original article
Wireless CarPlay is clearly superior to needing to plug your phone in each and every time you enter the car, but most auto manufacturers have been slow on the uptake. This is where aftermarket solutions like the Intellidash Pro come into play. 
Intellidash Pro, the wireless version of the basic Intellidash+ unit we've already reviewed, delivers an easy-to-install CarPlay experience with no electrical work necessary.
Parts and ports
In the box, you get the Intellidash Pro, a suction-cupped articulating arm mount, an adhesive glass disc, a USB-C to USB-C cable, a hook and loop cable tie, the power adapters, and five adhesive cable clips.
Car and Driver's new Intellidash Pro boasts a substantial seven-inch display with a bit of a matte finish, which helps reduce glare while driving. It has built-in microphones and speakers, though you probably won't want to use the latter.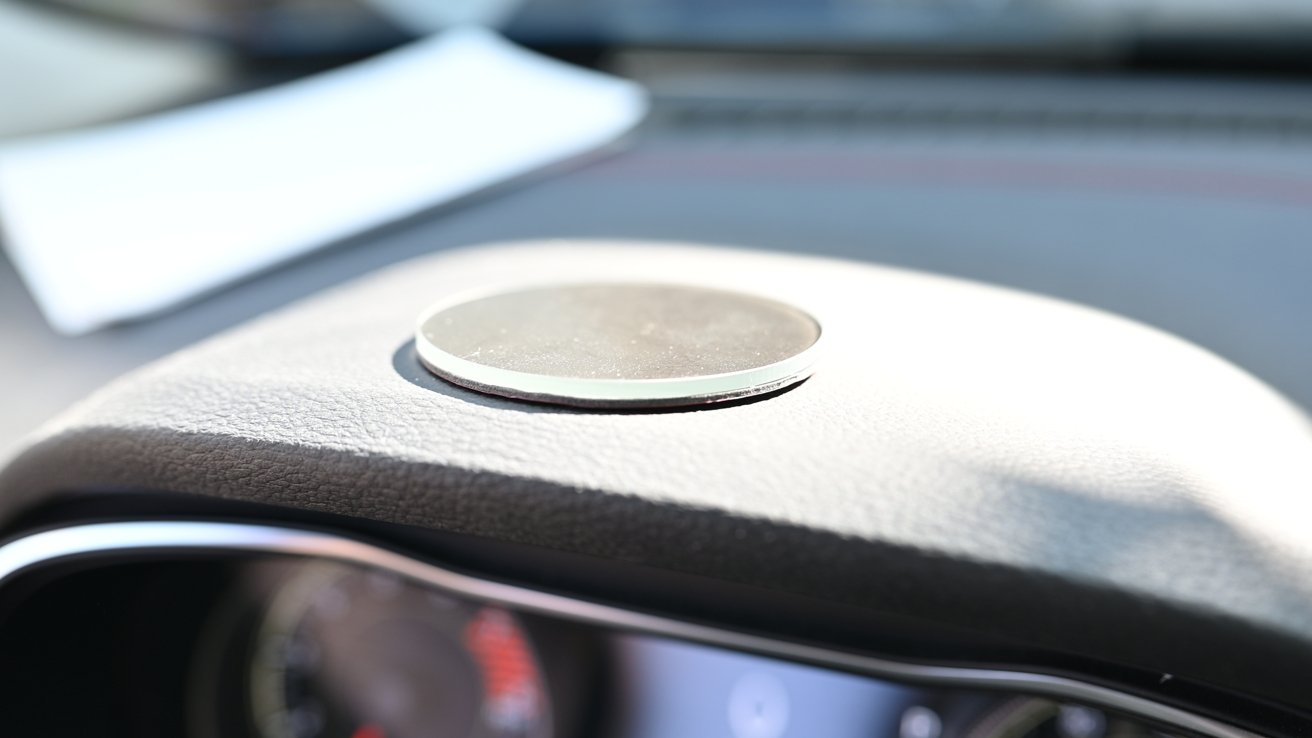 The mount is wildly adjustable and allows you to mount your display in several different positions. It can connect to your windshield on the inside or you could affix the glass disc to your dash and mount the display there.
We prefer the windshield option, which is a bit easier to hide the cables.
Down the left side of the unit are all of the port offerings. There is a 3.5mm auxiliary audio input, an auxiliary audio output, a USB-C port, and a USB-A port to be used exclusively with thumb drives.
There is a rather large power unit that occupies the car's power socket so you can't use it for any other charging, which is a downside.
Wireless CarPlay for the win
We've been steadfast CarPlay users for years. It's simply the best way to use your iPhone in your car. Apple has routinely added new features to CarPlay, which roll out to everyone as the software is running on your iPhone, rather than your car.
As long as your car supports CarPlay, you'll get any new interface changes, app updates, map improvements, and much more. This year we saw several new features.
CarPlay started as a wired affair, but soon Apple released a wireless spec. It's been years, and many new vehicles still only support the wired incarnation, to the dismay of users.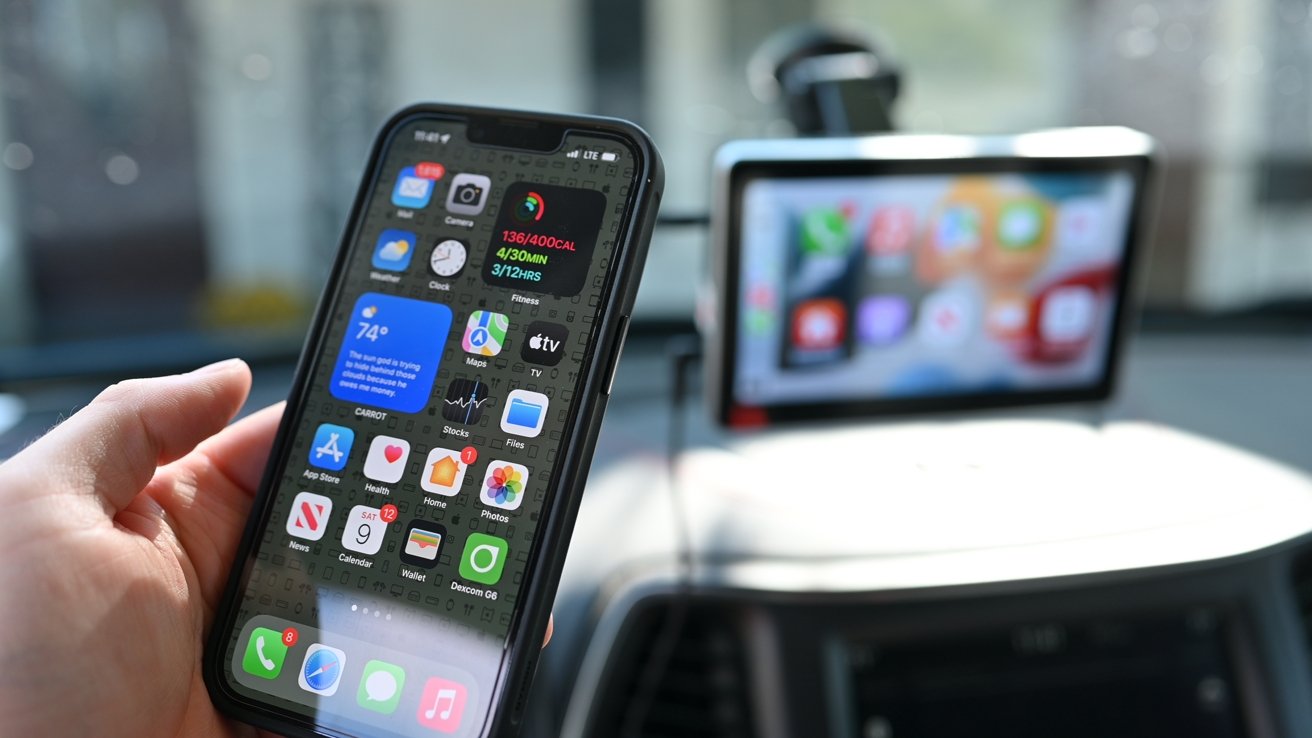 Most aftermarket solutions are full head unit replacements that require a substantial amount of know-how or a professional installer to retrofit. It's a complicated and often expensive proposition that turns away many users.
After living with wireless CarPlay for years, however, it would be hard to ever go back.
To set up wireless CarPlay with the Intellidash Pro, you merely connect your iPhone via a USB-C to Lightning cable. It will then automatically discover and request to pair with the new display. Then you can disconnect the Lightning cable and use it wirelessly from then on. Effortless.
When running wirelessly, it runs over Wi-Fi and will also show your battery status on the CarPlay interface. Otherwise, it is the same experience as running it wired.
You notice a slight delay in audio as it is being transmitted from your phone, but it isn't problematic.
There's an excellent option to pair with your wireless CarPlay these days too — a MagSafe compatible wireless charging mount. We recently crash tested several models that can either conveniently hold your iPhone or hold and charge it at the same time.
This is our preferred scenario where we can hop in the car, mount our iPhone via MagSafe where it can also charge, and CarPlay runs wirelessly in the background. With the Intellidash Pro, this is the experience we get.
Is it really wire-free?
It may seem almost a contradiction, as Intellidash Pro gives you wireless CarPlay, but at the same time, it can add one or two additional cables to your vehicle. It gives us pause on whether or not that is a step in the right direction.
What it comes down to is your setup. If you place this on your dash, leaving all the wires dangling, it's going to frustrate you and foster a bad experience.
If you take the included tools to route your cables properly, this is a wonderful solution for many people.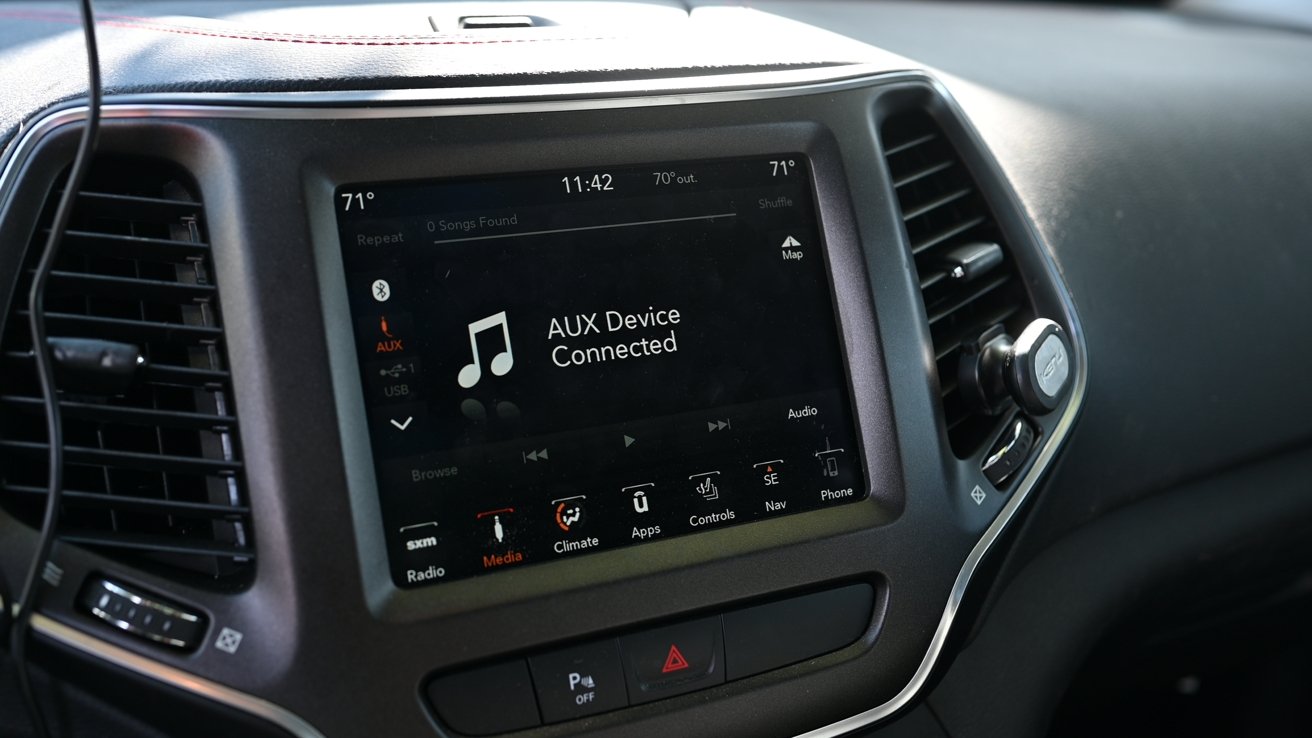 We carefully routed our power cable under the plastic edge of our dash and, where we couldn't, tucked the cable neatly into the bundled small clips. With the cords out of the way, they stay out of mind.
Intellidash Pro can also broadcast to your vehicle's radio with a built-in FM transmitter. That lets you ditch the aux cable leaving you with only one wire — the power cable — to run your Intellidash Pro.
For the added convenience of wireless CarPlay, we're sold.
Extraneous features
Aside from CarPlay, there are a few other features worth noting, if briefly.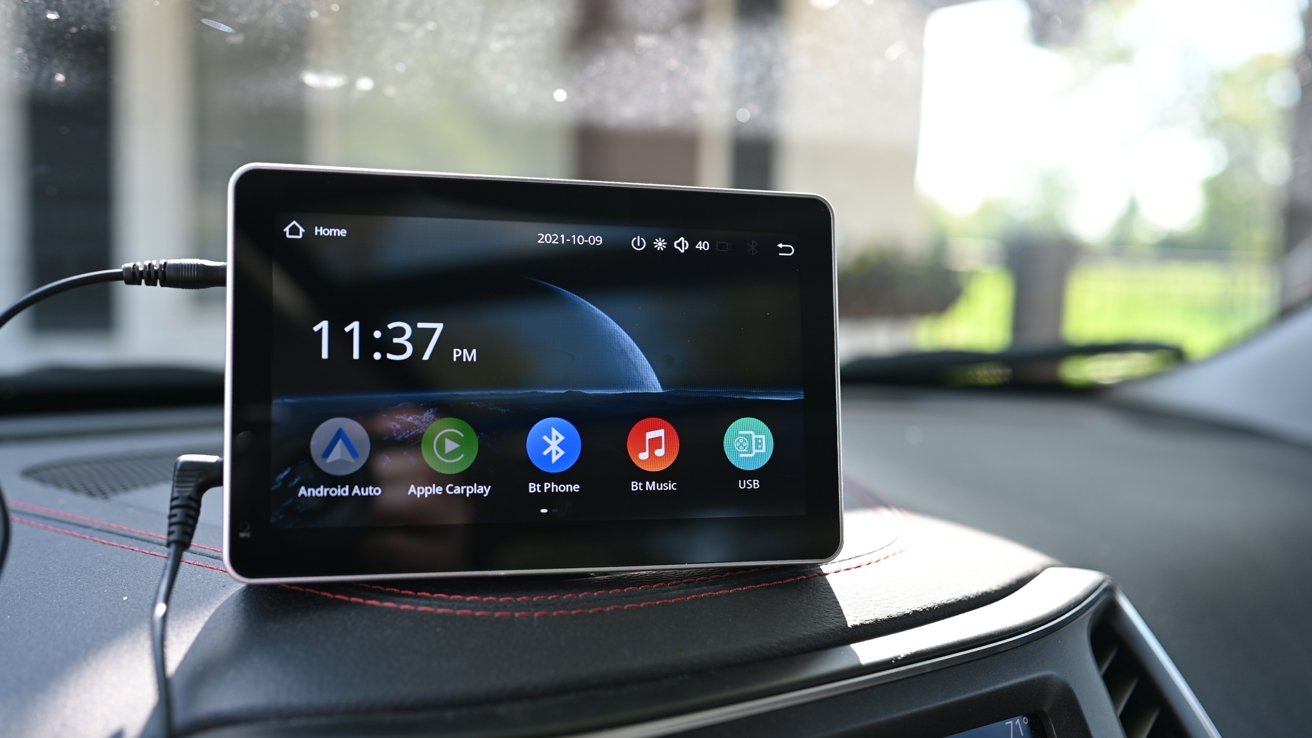 Intellidash Pro has Bluetooth so that even if you're not using CarPlay — or have a secondary device — it can still route its audio and calls through the unit.
A thumb drive can be inserted into the side where music can be played back. And sure, it also supports Android Auto if that's your bag.
Should you buy the Intellidash Pro?
After using the Intellidash Pro for a length of time, our only real complaint is how it interfaces with your car. It makes your native display nearly useless, with ours relegated to a very large touch screen control for the AC and not much else.
We also started using the FM transmitter, which felt like a blast from the past. Everyone used to have these to hook up their iPods to their car wirelessly but then and now, they had issues.
When you drive a significant distance, your radio broadcast channels change, as some new stations crop up while others fade out of range. So we'd choose an empty station only to have it transition to a radio show after driving a while.
If you just drive locally, an FM transmitter is probably the way to go.
To make things easier, we just switched to the aux cable, but that meant we needed to have one more wire running around our car which just looks messy. Even when we try to hide it as best we can.
The best solution would be to have a wireless CarPlay adapter for our vehicle, but this is the second-best option.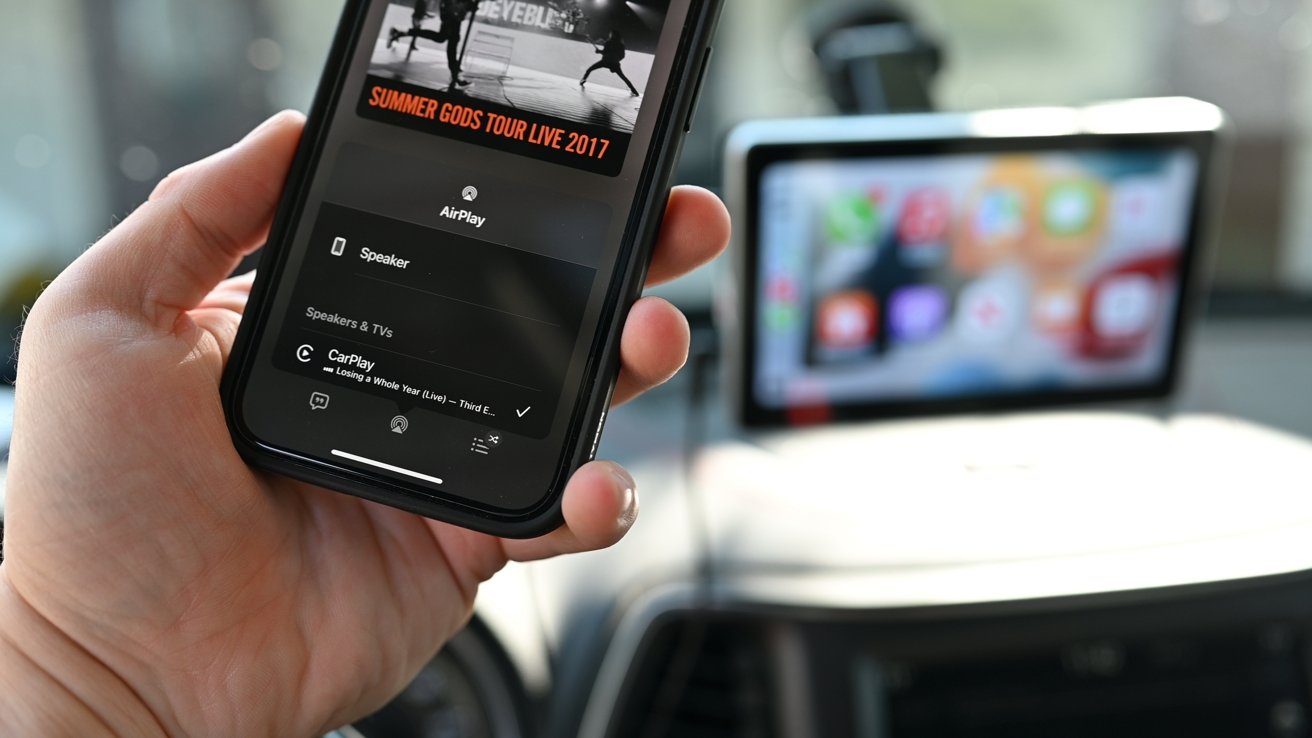 Wireless CarPlay is a far better experience for the user, and the Intellidash Pro delivers that. You simply sit down in your car, turn it on, and the Intellidash Pro springs to life, automatically connecting to your iPhone without it ever leaving your pocket.
This is the way CarPlay is meant to be, and shame on the automakers for dragging their feet in bringing this to vehicles natively.
This year feels like the first year we've seen broad wireless CarPlay adoption, but there are far too many existing vehicles on the roads that need a solution as well. As long as you don't mind the second screen in your car, this gives you that wireless experience without needing to replace your car's entire head unit.
Brings wireless CarPlay to almost any vehicle
Large adjustable 7-inch display
Multiple mounting options
Cables tie and clips included
Easy setup
Auxiliary cable, FM transmitter, or built-in speaker options for audio output
USB-C port to connect phone
Built-in speakers sound awful
Mics may not be as good as your vehicles
Makes your car's display nearly unnecessary
FM transmitters are fickle when driving long distance
Rating: 4 out of 5
Where to buy